Water Polo Goal Neptun Special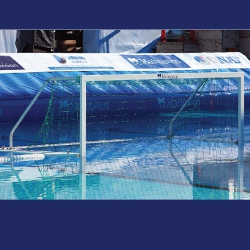 Company: Malmsten
Model: 12000
Category: Equipment water polo

Technicals Features:
Water polo goal Neptun Special, free—floating
Width 3 m
Height: 90 cm.
According to FINA and LEN rules.
Aluminium.
Measurements of frame: 75 x 40 mm.
Water Polo Goal Neptun Special, made according to FINA rules. Free-floating model.
The frame is made from aluminium profiles. Powder painted white. With a floating white support.
The width of the support ensures a stable well afloat goal.
It is available in two other models.
All water polo goals are sold in pairs. Freight info: 4 packages – 120 kgs – 0,85 m³, 2 of the packages length (3,2 m).