Umpires chair folding 505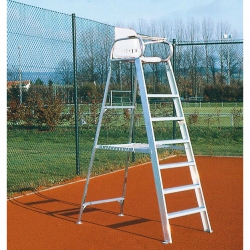 Company: Haspo
Model: 505
Category: Equipment for tennis

Technicals Features:
Natural bright aluminium finish.
Incl. UV—resistant, perforated plastic moulded seat, writing board,
string bag, disc feet, and 2 clothes hooks.
The umpire's chair matched to the most stringent requirements –
there is no better. A proven construction which has thoroughly
stood the test of time – both at home and abroad.