Touchpad OCP5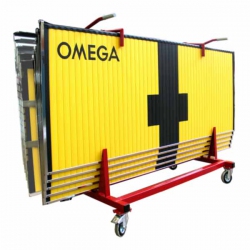 Manufacturer: Swiss Timing
Model: OCP5
Category: Refereeing and timing systems for swimming

Specifications:
— size 190х90 см end 240х90 см;
— weight 12,8 кг end 16,3 кг;
— sensitiveness 2 — 3 кг.
Swimming touchpad for reliable results.
The OCP5 touchpad consists of a high-grade
stainless steel frame, supporting interlinked individual
PVC slats. The slats are hard-wearing, nonabrasive
and provide an excellent non-slip surface.
The touchpad is designed for sustained heavy
use. Reliability and durability are unaffected by
hard water or chemical corrosion.
The contact strips within the pad will close and
thus give a timing signal, when 2 to 3 kg of localised
pressure is applied to any point on the surface
of the pad. The clever design of the touchpad is
such that whilst it is highly sensitive to localised
impact, it will not react to an overall change in surface
pressure, thus eliminating false impulses
from waves and wash.