Three sided lap counter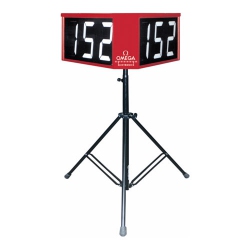 Manufacturer: Swiss Timing
Model: lap counter
Category: Refereeing and timing systems for a variety of racing events

Specifications:
Height with support : 1800 to 2500 mm
Digit height : 26 cm
Viewing distance : up to 130 m
Viewing angle : 110° by side
Power supply : 100—240 VAC, 50/60 Hz
Power consumption : 150 VA (max.)
Data communication : RS422
Data connection : Tuchel 7 poles female
Operating temperature : —10 to +50°C
Storage temperature : —20 to +80°C
Relative humidity : 80% (non—condensing)
Bell fixing : 3x hooks, female thread
There are many sports where the amount of laps is an
essential factor. Primarily athletics and cycling, but also any
competition which takes place on a closed track.
This LAP COUNTER features a modern design with 3 faces,
each showing 3 digits, and provides the ability to display 0 to
199 or 999 depending on the model. This makes the display
visible from almost 360 degrees, and at distances of up to
130 meters. Each digit is composed of 150 amber LEDs, the
luminosity of which automatically adjusts to ambient light
conditions thanks to an integrated sensor.