Three sided concentration clock BOREAS 250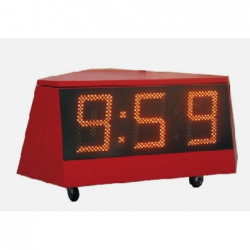 Manufacturer: Swiss Timing
Model: BOREAS 250
Category: Refereeing and timing systems for athletics

Specifications:
Dimensions : 120 x 105 x 56 cm
Weight : 40 kg
Display (amber LEDs) : 26 cm digits
Viewing distance : 130 m
Material : aluminium
Power supply : 100—240 VAC, 50/60 Hz
Power consumption : 150 VA (max.)
Battery autonomy: 8 hours
The BOREAS displays a concentration clock,
ambient temperature and when connected to
a SIROCCO wind gauge will display the wind
speed. When connected to a Scan'O'Vision
photofinish camera, the wind speed can be
automatically measured and displayed (without
field operator).
The BOREAS can also be used as a lap counter
which makes it a real all-in-one compact
field display.
The BOREAS 250 has extra large 26 cm
digits (viewing distance up to 130 m).
A light sensor automatically adapts the display
brightness to the ambient light conditions
to provide the optimum readability.
The brightness can also be manually chosen
within 15 steps. The three sided design ensures
maximum visibility from all angles.
An internal battery provides 8 hours of autonomy.
Moreover, it is mounted on wheels for
maximum mobility.
The set is delivered with an easy to use handheld
console with keyboard and display.