Tennis unit Transportable 503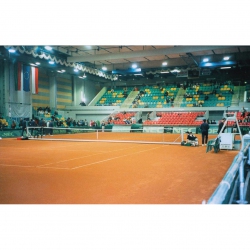 Company: Haspo
Model: 503
Category: Equipment for tennis

Technicals Features:
A novel idea pioneered in the USA and
reshaped by ourselves to match European conditions.
With this tennis unit, it is possible to play tennis anywhere there
is no tennis court or floor sockets are neither available nor can
be fitted.
A unit specially created for school and broad—based sporting
activity, but also for additional installation in gymnasia to create
further playing areas without major expense.
With all the advantages of tennis uprights, Cat.—no. 500.
This unit is used e. g. at WTA Tournaments, Swiss Indoor
and Davis Cup Tournaments.
Special design features:
— folding net uprights and feet
— split floor support
— assure extremeley space—saving storage
— easy assembly and disassembly
Low weight, which is especially advantageous for school games.