Tennis unit for children Transportable 507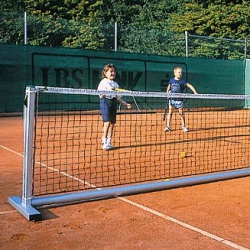 Company: Haspo
Model: 507
Category: Equipment for tennis

Technicals Features:
Posts with welded—on feet made of specially
strong aluminium special profiles 80 × 40 mm.
The round divisible ground tube of aluminium 60 × 2.5 mm is
simply slipped on to the welded—on pivot of the posts/base
construction and locked with the net holding rods.
The net – net size 6 × 0.80 m – is fastened with the net holding
rods between the posts. At the outside of the posts a quickacting
clamping device is mounted into which the rope is simply
suspended and tensioned.
Only with this tennis unit "Transportable" a specific built-up
training is possible which is at the same time fun for the children
since training without fun is quickly given up by children and then
important young talents are
missing. Therefore learning to play tennis quite easily with this
tennis unit "Transportable".
The tennis unit is set up such that one normal tennis court is
divided into two children tennis courts. Thus the limited courts
can be used optimally. It is not necessary to take away posts and
nets of the standard court.
Due to the well-devised construction – slip-on posts/base
construction and ground tubes in 2 pieces – therefore
transportation length only 3 m – and the low weight, this tennis
unit can be stored space-saving and is ready for use in no time.