Swimming starting platform OSB 12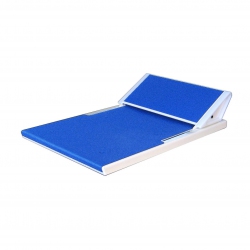 Manufacturer: Swiss Timing
Model: OSB 12
Category: Refereeing and timing systems for swimming

Specifications:
WEIGHT (KG) 21.2
COLOURS Platform white RAL 9010 with non—skidding surface dark blue RAL 5002
CONTACT Closing at the moment of the start (NO)
ACTION FORCE 9.0 Kg to 12.0Kg
CONNECTION Cable with 2—pole plug (length~140cm)
OBS12 presents a powerful new patented feature, revolutionising the way the swimmers
start from their blocks. Diving from the starting block with the body propelled by the knee at
a 90° angle drastically increases the explosiveness of the start. Physical tests undertaken
by top level swimmers showed faster races versus a standard block.