Start Line video system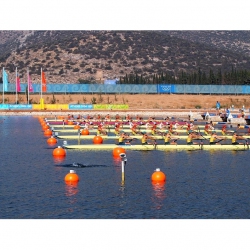 Made in: Hungary
Model: StartVideo
Type: main equipment for rowing channels
The StartVideo is the recommended tool for evaluating events at the rowing or canoeing start line. Using a touch panel computer with a camera on the start line, the StartVideo system helps the starter judges in the evaluation of false starts.

Within a few seconds after the start, the starter judges can easily obsere the events by the instant playback of the recorded video clip. By the use of the touch monitor, the video clips can be played forward or reverse, slow motion or even frame—by—frame. Using this interactive tool, the starter has the opportunity to make a quick decision about the start event and can stop the race if necessary. The recorded video clips are stored on a hard drive, ordered by heat number and marked as good or false start. The system can also be used in VCR mode, which records the start line evetns continuously, just like a conventional video recorder.
Basic Features:
Live video of the start line with adjustable marker line
Works together with the automatic start system
False start evaluation by immediate playback after start
Record video clips according to race number
Capture single video frames
Aids the precise alignment of the start system during installation
Constant recording of startline events (VCR mode)
Can be used with or without an automatic start system