Sports parquet floor Sondrio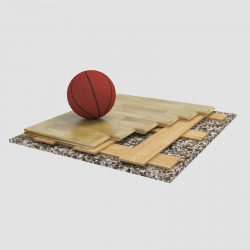 Company: Seicom
Model: SONDRIO
Category: Sports coverage

Sports floor parquet double warping, very flexible and high performance suitable for multi sports halls, and because of the great flexibility is recommended for sports halls where they practice gymnastics for the elderly or amateur athletes, as the great flexibility of this system contributes to prevent injuries.

This solution's been developed for multi functional sport facilities and for sports activities requiring a great ball rebound, together with an excellent elasticity and deformation to impacts. All the several references both in Italy and abroad are evidence of the great reliability of this system.
NEW In 2008 model Sondrio was redesigned and updated to new requirements; we made changes to the spring layers structure in order to make it more elastic and performing. The new model is tested according the new standards set by EN 14904 and therefore certified for fire reaction and approved by FIBA, like all our products.
[Brief technical description:]
Sports floor consisting of double spring layer made of plywood strips, settled on elastic mattress – top layer made of solid parquet element, 22 mm thickness, pre-lacquered. Total thickness 55 mm.

[Technical description:]

The main steps of making the sports floor model SONDRIO are:

- Laying of a polyethylene sheet - 0,20 mm thickness - as anti-steam barrier on the concrete.
- Laying of PUR elastic layer, 15 mm thickness, in order to make the floor uniformly resilient.
- Onto the elastic layer, longitudinally laying of the bottom spring layer, 9 mm thickness made of plywood strips, with 105 mm spacing between the strips.
- Laying of the upper spring layer (same as the previous one, nailed to the bottom one by means of special cramps 92/25) perpendicular to the bottom spring layer, with a distance between centers of 330 mm;
- Onto the upper spring layer, RUBBER WOOD solid parquet elements are nailed by means of T-shaped nails
- Sanding of the whole surface with abrasive paper (grain 220), dust suction and removal with special antistatic tissues.
- Finishing protective treatment on the whole surface, by means of special polyurethane lacquer (solvent or water base) specific for sports use, highly resistant and anti slip.
- Game line marking with basketball and volleyball courts, line coloring according to the current requirements;
- If requested, laying of safety skirting board made of pre-lacquered wood, with specific grooves for ventilation and connections to the outer floor by means of steel, aluminum or wooden doorsteps.

[Certifications:]
Sports parquet floor - FIBA certified
EN 14904 Certification
EN 13501 Fire resistance Certificate
EN 12667 EN 12664 Thermal Performance of building materials (floor heating).
Product data sheet