Speedometer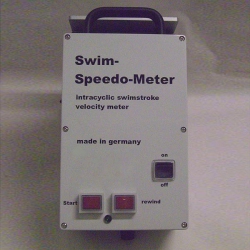 Made in: Germany
Model: Speedometer
Category: Simulators for swimmers

Technicals Features:
Easy portable instrument for exact measurement of speed in water.
Put it on the starting block, hook the rope in the light belt and start swimming.
With a specific generator the speed of the rope will be changed in on analogue signal which can be seen directly on a plotter or with the optional Swim Analyzer Software on PC.
27 m extension length. Quick rewinding of the rope per pushing a button.