Soccer goals 108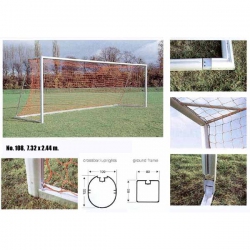 Company: Haspo
Model: 108
Category: Equipment for football

Technicals Features:
The customer's wish for more stable and stronger goals was the
reason for the development of this production line.
The "new generation" of soccer goals "Transportable" of
7.32 × 2.44 m with decisive improvements and innovations:
— welded mitres of crossbars
— crossbar/uprights of proved oval profiles 120/100 mm
— ground spars/ground tubes of stable square profiles 80 × 80 mm
— special fasteners fitting exactly between crossbar and uprights
— reinforced links of uprights/ground spars welded on the ground
spars
— very strong net hoops of aluminium tube 40 mm diameter
— stable links at net hoops fitting exactly in the groove of the goals
— long ground spars to improve stability
— Safety system net holders
Stability and durability are substantially improved by the above
mentioned construction details.
Top goals bearing each comparision.