Soccer goals 104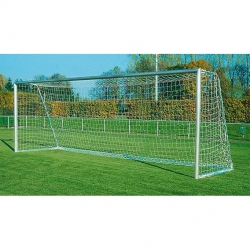 Company: Haspo
Model: 103
104
Category: Equipment for football

Technicals Features:
"Transportable", completely welded, 7.32 × 2.44 m
Standard equipment: Natural bright aluminium finish.
103 — Goal depth 1.50 m
104 — Goal depth 2 m
These top goals are completely welded in one piece and therefore
more stable and more durable.
Crossbar and uprights are of proven oval profiles 120/100 mm,
ground tubes of special profile 80 × 80 mm with inserted groove
for net holders, net hoop of special stable aluminium tubes
50 × 4 mm. Weldings are reinforced.
Ground bars and ground tubes are welded to the goal
construction that way that all net holders are at the outside
and thus there is no danger for the keeper.
Two additional handles are welded to make transport easier.
Of course, these goals are delivered with our proved Safety
system net holders.