Soccer goals 101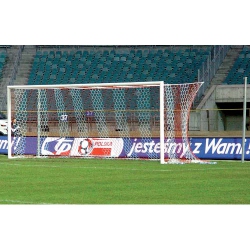 Company: Haspo
Model: 101
Category: Equipment for football

Technicals Features:
"For insertion into ground sockets", with aluminium cast corner joints, 7.32 × 2.44 m
For more than 30 years our wellestablished
construction, which has constantly been modified.
However, we always took care that spare parts are also provided
for "old goals".
The goals with decisive advantages:
— extremely stable and precise—fitting aluminium cast corner
joints
— reinforced aluminium net hoops
— quick and simple assembly and disassembly
— Safety system net holders
— one hundred percent steady goal, location in ground sockets
by use of special wedges
Comply with DFB and FIFA regulations
Standard equipment: Matt silver anodised finish or white
powder coated at additional cost.