SKATE SHARPENING MACHINE SSM PROFIL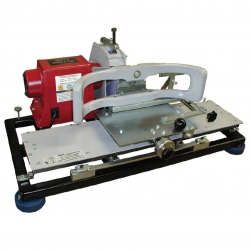 [
Made in: Sweden
Model: SSM PROFIL
Category: equipment for sharpening skates

Specifications:
SSM PROFIL is used to shape skate blades with high precision after suitable templates. You can make radius profiles or glide surfaces (flat or with radius). The machine is a further development of our previous but now discontinued 900 Universal and the automatic machine SSM 900. We have taken the best properties from these machines when it comes to radius sharpening and at the same time avoided the problems of the automatic machine.

With the SSM PROFIL we have a manual radius sharpener that fulfills today´s demand on radius and glide surface sharpening. An advantage with the machine is that it is robust. Its vertical grinding wheel for doing cross—grinding leads to a speedy removal of material from the skate blade. But SSM PROFIL also has a fine—adjusting device so that you will always be able to remove as little material as possible. These properties make the machine very fast to use.
A flexible template system is used, where you easily change template after your wishes. Can also be used to shape touring skates if the holder is replaced by the touring skate holder H-LF P and special templates are used. Afterwards you sharpen your skate flat or hollow on a SSM-2.
SSM PROFIL is now CE approved (220-240 V version) and ETL approved (110-120 V version).