Skate sharpening machine SkatePal-Pro2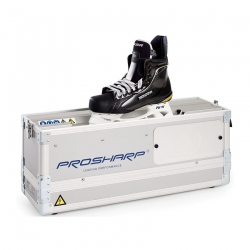 Made in: Sweden
Model: SkatePal—Pro2
Category:
Technicals Features:
Power: 12 VDC, 1 phase 100—240 VAC 50—60 Hz, 180 W
Length: 670 mm
Width: 210 mm
Height: 12 Inch (300 mm)
Weight: 320 mm
Speed Matters! It's a fact that the diamond grinding gives a sharper, cleaner and more consistent sharpening. As such the hollow grind will be the same with every sharpening. The SkatePal's precise diamond sharpening sets a new era of superior on ice performance. It can't be easier, just clamp the skates and minutes later you have perfect edges. SkatePal provides a new higher skate sharpening standard. Try it out and experience the drastic impact on your game!
Key Features:
- Retains the blade profile and hollow
- Quick changeable grinding wheels and hollow
- Cold Diamond Cut skate sharpening
- Automatic centering of skate blades
- 1-3 min per pair
Key Benefits:
- Maximize acceleration, agility and speed
- Unmatched sharpness and edge control
- Easy operation, consistent sharpening
- Eliminates uneven edges and overworked steel blades