Sirocco wind gauge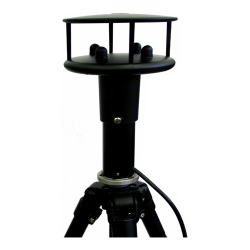 Manufacturer: Swiss Timing
Model: Sirocco
Category: Refereeing and timing systems for athletics

Specifications:
Weight: 1.3 kg (without support, with cable)
Measurement duration : any, selectable through PC interface
Display : onto Scan'O'Vision camera PC
Range : —9.9 to +9.9 m/s
Accuracy : +/— 0.1 m/s
Data connection : Tu 7pF (RS422) (cable included)
Cable length: 5 m
Power : through optional INT131 unit
Operating temperature : —35 to +70°C
Storage temperature : —40 to +90°C
SIROCCO is an ultra-sonic sensor which sends information
directly to an optional INT131 interface, from which it
also takes its power. The INT131 interface can be connected
to a Scan'O'Vision STAR photofinish camera or to a
BOREAS display unit through its RS422 connection.
The wind speed acquisition is performed automatically for
each race, in accordance with the settings made in the photo-
finish software.
Different settings for each relevant race (100 m, 200 m and
sprint hurdles) are set in advance to determine the length
of the wind measurement, and the point in the race at
which measurement begins.