Shot clock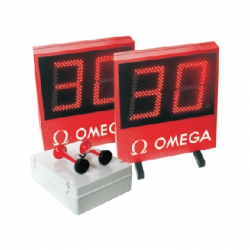 Manufacturer: Swiss Timing
Model: Shot clock
Category: Refereeing and timing system for water polo

Specifications:
Dimensions : 50 x 35 x 53 cm
Weight : 5.8 kg
Digits height : 24 cm
Power supply : 24 VDC (see Power + Horn module below)
Power consumption : 30 VA (max)
Connections : 2x Harting 5pM
Operating temperature : —10 to +50°C
Storage temperature : —20 to +80°C
The Shot clocks are powered by an external power module,
which also includes a powerful horn. Connected to and synchronized
with a CALYPSO controller as a main timing device, Shot
clocks follow the start/stop commands of the referee. As soon as
the 30 seconds Shot clocks reach zero an acoustic signal is emitted
from the Power + Horn module.
The angled, wide based design makes the display extremely
stable, and the 24 cm height of the LED digits ensure excellent
visibility for the players and spectators alike.