Safety mini training goal 15245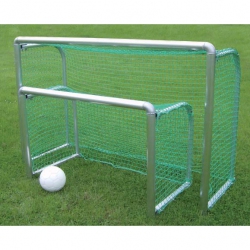 Company: Haspo
Model: 15245
Category: Equipment for football

Technicals Features:
Inside dimensions 1.20 × 0.80 m, Goal depth 0.70 m
Standard equipment: natural bright aluminium finish, net hanger
made of aluminium tube diameter 40 mm, incl. net with mesh size
of 45 mm and safety—system net holders
These goals are the result of consistent enhancements of our
previous mini goals, which are still available.
This design is an absolute innovation.
The special feature of this design: the connection of crossbar/
uprights of 90° bows – the goal frame has, therefore, rounded
edges significantly reducing the risk of injury, particularly in the
head and face region of children, since all sharp edges have been
eliminated.
The welded goal frame is made of robust aluminium system
profiles with a diameter of 60 mm and, based on the two 90°
bows, forms one single unit.