Round-up height adjustable beam with Transport trolleys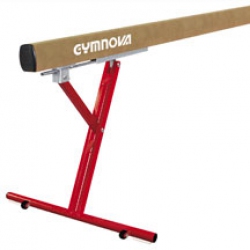 Company: Gymnova
Model: 3601
Category: Gymnastics equipment

Technicals Features:
Beam adjusts instantly without needing to move the mats.
Coaches can work at ground level as well as mid—height or regulation height, whislt maintening the stability and sprin of a conventional beam.
Height is adjusted with a retractable lever and marked calibrations.
Continuous adjustment between 0.45 cm and 1.40 m.