Pursuit clocks for track cycling TRACKER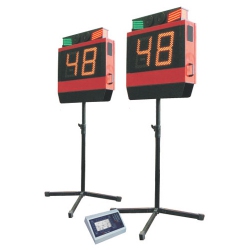 Manufacturer: Swiss Timing
Model: TRACKER
Category: Refereeing and timing systems for track cycling

Specifications:
Housing width : 640 mm (690 mm with handles)
Housing (height x depth) : 715 x 155 mm
Digit height : 26 cm
Support height : adjustable 1040 to 1490 mm
Weight with support : 21.6 kg
Backup battery life : 4 hours
Power supply : 115—230 VAC, 50/60 Hz
Power consumption : 100 VA
Countdown sound : Beep (500 and 1000 Hz)
Countdown start : Bang
Last Lap indication sound : Bell (synthesized)
Volume : Adjustable, up to 102 dB
Integrated keypad : 4 keys (clear, lap +, lap—, bell control)
Operating temperature : 0 to 50°C
Storage temperature : —10 to +50°C
The TRACKER has been designed and developed
by SWISS TIMING in parallel to the STARTING
GATE, the two units complementing each other. It is
used in pairs on all cycling events using Velodromes
and cycling tracks, such as Individual and Team
Pursuit, 500 meters Time Trial, 1Km Time Trial and
Team Sprint.
Its dynamic design features two digits on its front
face, each composed of 150 amber LEDs, which automatically
adapt to the ambient light conditions thanks
to an integrated sensor. It is topped by two LED semaphores,
red and green, which during a pursuit race,
provide the athletes with information about whether
they are leading or trailing at that time.
Linked to a pair of starting gates, they ensure a fully
automated start sequence, and a perfectly synchronized
opening of the gates, as well as the sending of a
synchronized signal to the optional timing device.