Rinktex rink flooring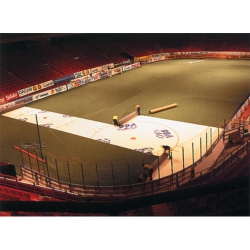 Made in: Sweden
Model: Rinktex
Category: coatings for ice arenas

Technical Features:
nstalling Rinktex over the ice before a concert at the Scandinavium Arena, Göteborg

Rinktex® quickly and easily transforms an ice rink to a versatile hall for indoor football, concerts or exhibitions. Rinktex is installed straight onto the ice. It is completely possible to cover parts of the ice with Rinktex and also have ice activties on the rest of the rink.

Rinktex is a fully synthetic textile flooring that is based on the well—known Bolltex surface.

A complete rink covering consists of 15 rolls, 4 m wide and 30 m long. Installation, which can be done straight onto the ice, asphalt, concrete or other solid surface, takes about two hours.

Rinktex has excellent insulation properties, which means that it is absolutely possible to have the audience on the flooring, even if Rinktex has been rolled straight onto the ice.