Players cabin Exclusive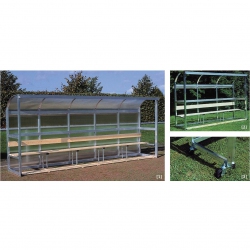 Company: Haspo
Model: 1903, 1904, 1905
Category: Equipment for football

Technicals Features:
1903 — Width 3 m
1904 — Width 4 m
1905 — Width 5 m
Complete with bench, wooden grille
and all necessary assembly material.
Due to the elegant design and the very stable construction
our players' cabins "Exclusive" have firmly established on the
market during the last years:
with round shaped roof, which shows a more elegant design.
Side parts of plexiglass, which offer an excellent view.
We can supply three standard sizes:
Width 3 m: 6 – 7 persons
Width 4 m: 8 – 9 persons
Width 5 m: 10 –11 persons
These players' cabins "Exclusive" offer a perfect predection
against storm and rain and should exist on each field.
Additional income is necessary for each club. The players' cabins
"Exclusive" offer enough space for publicity purposes.
Standard execution is with roof and rear wall of polycarbonate
hollow-chamber profiles with UV predection.