Parquet London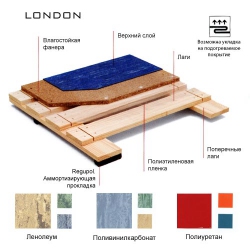 This equipment is no longer supplied. Please search through the catalog for analogues.
Company: Haro
Model: London
Category: Sports coverage

Technicals Features:
Model London is a so—called "sprung" floor, utilising an elastic batten or single swing beam system. It can be installed on raw concrete, even if the sub—floor is not perfectly even, since the uneven parts can be levelled simply by placing an equalizing material under the swing—beam pads.


Model London features a OSB 4 board as the load distribution panel and is a perfect choice for low budget projects where a high quality product is required! Synthetic coverings like Linoleum, PVC, Rubber, Polyurethane etc. can be glued on the sub—construction.
London fully meets the requirements of the German DIN V Standard 18032-2; April 2001. Elastic sport coatings are more than a mere alternative to hardwood sports floors and offer a unlimited palette of available colours! HARO provides a great variety of materials and designs in the elastic sports coatings range.