OIN4 FIELD DISPLAY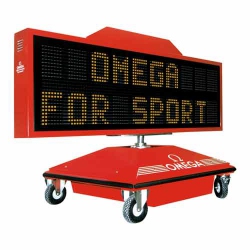 Manufacturer: Swiss Timing
Model: OIN4
Category: Refereeing and timing systems for athletics

Specifications:
Required rotation : 180° 90°
Display rotation speed : 34 sec. 17 sec.
Display dimensions : 2900 x 950 x 320 mm
Trolley dimensions : 1644 x 1444 x 764 mm
Display weight : 101 kg
Trolley weight : 198 kg
Power supply : 115/230 VAC, 50/60 Hz
Power consumption : 650 VA
Data transmission: RS422
Operating temperature: 0 to +50°C
Storage temperature : —20 to +70°C
Wind resistance: up to 85 km/h gusts
The OIN4 field display is the fourth generation of
the Omega field boards. The latest generation
of this product, which is well known all over the
world, takes the best features from all previous
versions and adds the benefits of LED technology
to improve quality and reliability.
Throughout the field events the OIN4 permanently
displays the names of the athletes before
each attempt, and shows the results once it has
been measured. Depending on the software
used to control the display, a variety of information
can be displayed, such as: attempt number,
wind speed, athletes bib number, the concentration
clock, as well as free text or advertising information.
OIN4 displays are available in two
models: a single-sided display equipped with a
plus/minus 90° rotary motion, and a doublesided
display with a rotation of plus/minus 45°.
The display automatically adapts the brightness
of the high quality amber LEDs to the ambient
light conditions. This makes the product perfect
for both indoor and outdoor use. The very big characters
(30cm) provide a viewing distance of
150m, up to the rearmost seats of the stadium,
while the louvers and the black background provide
the best contrast available, ensuring excellent
legibility to all spectators and competitors.