Net Cage 10m/7m "Ground Sockets"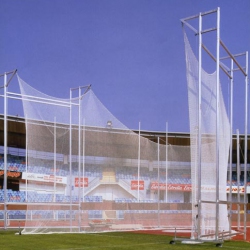 Made in: Germany
Model: SH 21468
Category: Athletics equipment

Specifications:
PROTECTIVE NET CAGES FOR HAMMER + DISCUS (RULE 192.3/4)

These net cages are constructed as combination net cages for discus and hammer
(10 standards=9 fields, 2 doors).
We use official weather treated protection nets acc. DIN EN 1263—1 and IAAF.
Robust and durable construction made of double reinforced heavy duty extruded aluminium.
Two adjustable doors. All cantilevers and doors equipped with wheels.
Outer net sloping from 7,0m to 10m. With pulley system for raising and lowering the nets.
Comes with ground sockets and all necessary fittings.