Multi-Use Game and Sport Surface Regupol kombi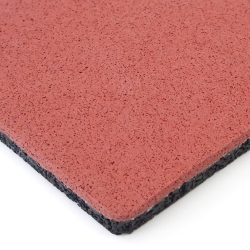 Made in: Germany
Model: Regupol kombi
Category: Coatings for outdoor sports grounds

Technicals Features:
Regupol® kombi is the multifunction sports covering for training, school sports, trend sports and fun courts. The prefabricated dual—layered rolls are quickly and easily laid on asphalt and other bound sub—bases. Its force reduction is somewhat less than that stated in the standard. This makes Regupol® kombi popular for fast ball games with the highest possible ball rebound properties.

Prefabricated Regupol® kombi has the same thickness all over and therefore offers homogeneous elasticity. The individual rolls can be produced and combined in different colours, creating low—cost contrasting colours for players with impaired vision.
Advantages
Variable force reduction based on the type of sport
Optimised ball rebound based on the type of sport
Durable, uniform elasticity across the whole surface
Sure-footed and non-slip
Spike-resistant
Various surface structures rated to different sports
Homogenous, seamless surface
Ideal balance between anti-slip and sliding properties
Kind to joints
Non-slip surface
Minimised risk of injury
Ongoing quality monitoring during production and installation
Quickly installed by skilled staff
Either waterproof or water permeable
Low care and cleaning workload
Professional basic cleaning possible
Retopping and basic refurbishment possible
Resistance to weather and UV
Durable also under intensive use
Cost advantage: installation also carried out on unbound surfaces