MONOCHROME DISPLAY BOARD SIRIUS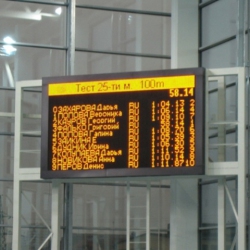 Manufacturer: Swiss Timing
Model: SIRIUS
Category: Refereeing and timing systems
The board consists of modules and can be of different sizes.
Specifications:
Basic colour : Red or amber
Module size : 960 x 720 x 180 mm
Weight : 40 kg
The modules frame and housing are made of steel, powder coated and grounded. Each display is completely assembled and tested in the factory.
Behind the pixel card, the module contains the power supply and the pixels driver card.
Two fans, mounted on the door, allow easy circulation of the air when no air-conditioning is installed.
Access for maintenance is from the back of the module. Each module is connected to the next one through a ribbon cable which transmits the information, and a standard cable which supplies the power. The data is transferred from the control room to the display through fibre optics. Those fibres are connected to the central unit operating as a multifunction device equipped with a digitizer for image processing. The digitizer decodes the standard video signals (Y/C and FBAS).