Modular scoreboard Gemini 6 digits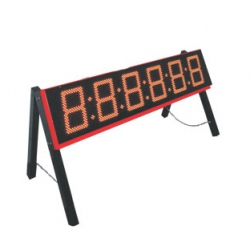 Manufacturer: Swiss Timing
Model: Gemini 6 digits
Category: Refereeing and timing system

Specifications:
Dimensions : 1460 x 340 x 94 mm
Weight : 10.2 kg
Display mode : 6 numeric (7 segments) dot & semicolon separator
Height of digits : 240 mm
Display type : 150 amber LEDs per digit
Viewing distance : up to 120 m
Horiz. viewing angle : 110°
GEMINI scoreboards are available as modules
consisting of 6 digits, 9 digit or 12 alphanumeric
characters. They incorporate extra
large LED arrays and are designed for indoor
as well as outdoor use. They can be wallmounted,
installed on optional legs or mounted
between two posts. Several units can be
assembled together easily and neatly with
optional fixing supports.
A wireless Bluetooth interface (Bluelink) for
secure transmission is available as an option.
Full compliance is guaranteed with other
Swiss Timing devices for sports such as
athletics, cycling, speed skating and equestrian
events. Numeric displays are clearly
visible at distances up to 120 m, while the
alphanumeric type provides crystal clear display
up to 100 m. All displays use amber color
for optimal contrast. An integrated sensor
adapts the brightness automatically to the
ambient light conditions. Thanks to a 110°
horizontal viewing angle, the displayed information
is available to the maximum number of
spectators.