MATERIALS TROLLEY - ETX COMBI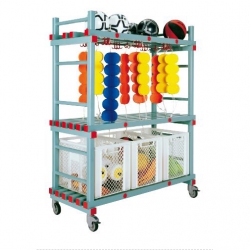 Made in: Netherlands
Model: ETX COMBI
Category: Storage systems for swimming pools

Technicals Features:
The standard trolley with highest level of sales to swimming pools. A versatile way of storing swimming aids, teaching devices and toys.
Measurements: 138x60x160/175 cm (LxDxH). Top shelf with 21 double plastic hooks and fitted with 2 protective sets of 15 cm height. Spaces in between, from bottom to top 55 and 70 cm. On 4 plastic castors, of which 2 have breaks. They are available in other sizes.
The containers are optional Container measurements: 60x40x43 cm (LxDxH).