MATERIAL TROLLEY, LOCKABLE - ETX LOCK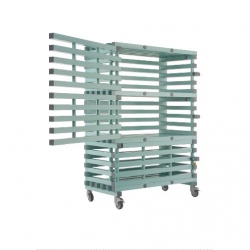 Made in: Netherlands
Model: ETX LOCK
Category: Storage systems for swimming pools

Technicals Features:
A versatile way of storing swimming aids, teaching devices and toys. Inside measurements per compartment: 105x41,6x45cm (LxDxH).
The doors' direction of rotation (left or right) can be chosen beforehand. On 4 plastic castors, of which 2 have breaks. The doors have a locking device and can be locked. Measurements: 120x60x175 cm (LxDxH). They are available in other sizes.