Mat display lscb006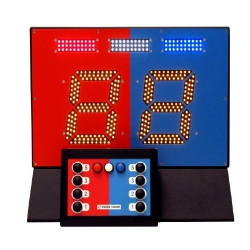 Manufacturer: Swiss Timing
Model: lscb006
Category: Refereeing and timing systems for wrestling

Specifications:
Power supply: external 100 – 230 V, 50 – 60Hz
2m power cable
3m data cable (between display and keypad)
Display:
Dimensions: 420 x 385 x 150 mm (L/H/W)
Weight: 3.9 kg
Keypad:
Dimensions: 200 x 70 x 150 mm (L/H/W)
Weight: 0.4 kg
Swiss Timing has developed the Wrestling mat display to introduce an innovative solution
replacing the formerly used signalling disk. The mat display consists of a double-face scoreboard
equipped with state-of-the-art LED lights and a user-friendly operating keypad. The display is easily
connected to a power supply and ready to go in just seconds.
The mat display is suitable for indoor use only. The keypad
buttons include the numbers 1, 2, 3, and 5 and 2 warning
buttons for each the red and blue corner. A central white
passivity button activates a white light when pushed. The
keypad produces an acoustic signal to provide convenient
feedback to the operator. When any of the buttons is pushed,
the corresponding value or lights appear on the board in real
time.