Large trapezium module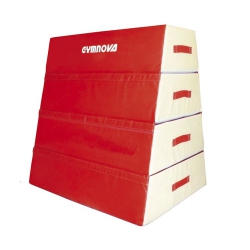 Company: Gymnova
Model: 0261
Category: Gymnastics equipment

Technicals Features:
The modular nature of the sections means that several different types of obstacles can be built. Ideal for the introducing of vaulting.
Composed of 4 sections wich canbe detached and used separately.
Possible heights : 30, 60, 90, 120 cm.
Hight density polyurethane foam.

Each of the sections is made from dual density foam, with a harderarea on top for stability.
Carrying handles, anti—slip base.
Dimensions : 120 x 90/40 x 120 cm (LxWxH).