Large and small confort mat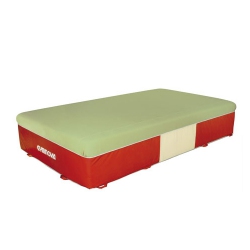 Company: Gymnova
Model: 7090, 7091
Category: Gymnastics equipment

Technicals Features:
7090 — 350 x 200 x 65 cm. Weight : 80 kg.
7091 — 200 x 150 x 65 cm. Weight : 37 kg.
The underside of the cover is made from 1000 denier "leather look" PVC with 12 carrying handles and the top cover is washable stretch jersey
Mid-way between a classical mat and a landing pit, it provides great comfort for landings. transportable, it can be used for dismounts off the apparatus as well as for learning pracices which require good absorption from falls.