Junior soccer goals 119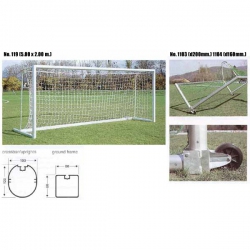 Company: Haspo
Model: 119
Category: Equipment for football

Technicals Features:
"Transportable", with welded mitres, 5 × 2 m
1.50 m long ground spars guarantee a special strong execution.
Of course, the ends of the ground spars are closed.
Crossbar/uprights matt silver anodised
and ground frame of natural bright aluminium finish.
Incl. net hoops of aluminium tube, diameter 40 mm, net hoop
braces, Safety system net holders and ground frame, goal depth
1.50 m.
The ground tubes can be displaced at a distance of 1 m, so that
nets of a lower depth of 1 m will fit.