Junior soccer and small pitch goals 120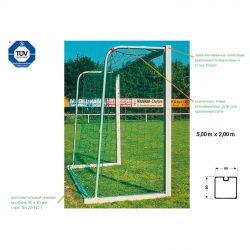 Company: Haspo
Model: 120, 140
Category: Equipment for football

Technicals Features:
"Transportable", with aluminium cast corner joints, 5 × 2 m and 3 × 2 m
For many years this standard execution of Haspo junior soccer
goals and small pitch goals has proved. Of course, with decisive
advantages:
- Haspo German registered patent screw recess in the crossbar/
upright joint problem area. More stability than with countersunk
screwings
- very stable and pecise-fitting aluminium cast corner joints
- special stable execution by 1.20 m long ground spars closed at
the end
- net hoop construction of special aluminium tube 40 mm
diameter
- all screws with integrated locking so that loosening of screwed
joints with the well-known disadvantageous effects are no
longer possible
- Safety system net holders
- thought-out construction, quick assembly
- optionally available – at additional costs – with reinforced
ground tubes of 80 × 40 mm system profiles. These ground
tubes may of course also be supplied as reftrofit set for already
available goals.