Judge's portable terminal MTE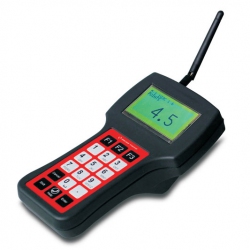 Manufacturer: Swiss Timing
Model: MTE
Category: Refereeing and timing systems

Specifications:
Dimensions (excl. antenna) : 220 x 115 x 95 mm
Weight (including battery) : 480 g
Housing material : polyamide
Power supply : integrated battery
Battery autonomy : 12 hours @ 20°C
Display : 128 x 64 pixel
monochrome matrix LCD
Buzzer : yes, integrated
Connector including ports : Power and recharge (8 to 30 VDC)
RS232 data transmission
RS422 data transmission
CanBus data transmission
Antenna connector : SMA
Wireless transmission protocol : ZigBee
Transmission range : 100 m (in open space)
Operating temperature : 0 to 50 °C
The MTE is used by the judges to enter notes
given to the athletes during aquatic sports,
such as diving, synchronized diving and synchronized
swimming.
The handheld unit is wirelessly linked to a centralized
scoring system using the industrystandard
ZigBee transmission protocol.
It is equipped with an 18 keys keypad including
11 numerals and 7 function keys. Each key is
made of a separate microswitch, the whole
being protected by an embossed plastic sheet.
The MTE features a 128 x 64 pixel LCD, able
to display up to 8 lines of 21 characters and
offering graphics possibilities.