Inflatable Tumbling track with two inflators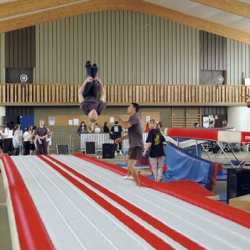 Company: Gymnova
Model: 6293
Category: Gymnastics equipment

Technicals Features:
It allows sequence of acrobatics moves on a smooth surface ensuring stability and controlled rebounds.
Self—contrained, the track stays inflated more than a week without having to use the fan.
Easy to handle, it is convenient for all type and level of gymnasts from beginners to elite.
Easy and quick to set—up and repack.
8 Carrying handles — 3 valves — velcro on the 2 withds.
Blue color with two longitudinal bands and around gray
Optional carriage.