High Speed Video backup system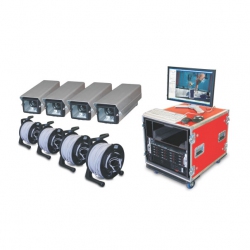 Manufacturer: Swiss Timing
Model: HSV
Category: Refereeing and timing systems for swimming

Specifications:
— Hardware / software solution for video—based time measurement
— Video capture on hard disk with timeline
— High temporal resolution : 100 full frames per second
— Synchronous grab of 4 video streams
— Own high precision time base, allowing use as a full backup system
— Possibility to record a video stream while examining another one
— ARES 21 compatible
— Distance of up to 150 m between HSV rack and cameras
The High Speed Video backup system is a digital
hardware/software solution for video-based time
measurement. The high-speed cameras are directed
at the finish line, and the video data is captured
on hard disks. When browsing through the recorded
video sequence, the system reports the time of race
for every recorded image, allowing to pinpoint the
exact timestamp when the athlete reaches the finish
line, by finding the corresponding image in the video.
The main advantage of the HSV is the high temporal
resolution : while PAL video systems usually generate
only 50 half frames, the HSV cameras generate
100 full frames per second, which means that each
recorded image corresponds to 1/100th of a second.
Thanks to the camera synchronization, the finish line
can be filmed from multiple and synchronous perspectives,
or divided into up to 4 sections, without
losing comparability of times.