High-board Hydraulic Tower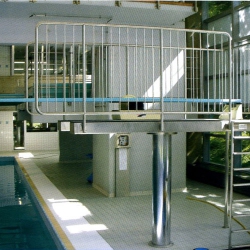 Company: Duraflex
Model: Hydraulic Tower
Category: Equipment for diving
Used for: public pools, smaller pools, school pools

Specifications:
The hydraulic diving platform consists of four main modules:
— Cylinders
— Platform with railing
— hydraulic drive system
— electrical / electronic control
The works are required which will depend on the locally prevailing conditions.
The cylinder is placed on a concrete foundation in well-defined elevation and protrudes through an opening in the ceiling (about 50 cm in diameter) is slightly beyond the pool deck.
Through two further openings in the ceiling (8 cm diameter), the brake rods are performed for a ride-ladder is a ceiling opening of 85 x 33 cm produce.