Groin guard Professional and Lady Groin Guard professional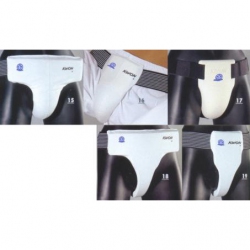 Made in: Germany
Model: Groin Guard professional CE
Category: equipment for martial arts

Technicals Features:
Groin guard Professional CE
Anatomically—shaped cup designed to prevent lateral slip. Additional lower body protection with shock—absorbing, laterally—extended strip. Wide, replaceable elasticated waistband, adjustable via laced fastener at back. Hard plastic cup, covered with vinyl.

Lady Groin Guard professional CE
Very comfortable to wear thanks to anatomical shape. Wide elasticated waistband ensures secure fit. Hard plastic cup inner, vinyl outer.