Freestanding training asymmetric bars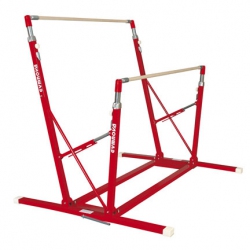 Company: Gymnova
Model: 3356
Category: Gymnastics equipment

Technicals Features:
Asymmetric bars with fixed feet (dimensions on the floor : 2.55 x 2.61 m).
Height adjustment by sliding tubes with clickers and tightening wheel. Graduated measurements in cm. Hand—rails made of wood covered fibreglass. Upper hand—rail adjustable from 2.10 to 2.45 m. Lower hand—rail adjustable from 1.40 to 1.75 m. Adjustment in width by graduated adjusters from 0.56 to 1.40 m. It is possible to extend the adjustment to 1.55 m. Supplied with integrated transport wheels.