Freestanding training asymmetric bars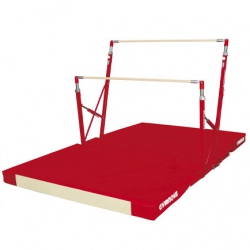 Company: Gymnova
Model: 3347
Category: Gymnastics equipment

Technicals Features:
21 kg density polyurethane foam with class M2 fire rating leather appearance PVC cover. Overall dimensions : 4.30 x 2.60 x 0.20 m (Lxwxdepth). Fitted with Velcro both ends (for adding additional mats if required) and handles to hold upright and for carrying. Cut—outs allow the mat to fit perfectly around the apparatus feet to give a perfectly flat surface.
Asymmetric bars with foldable feet to save storage space (dimensions when folded : 2,55 x 0,90 m).
Height adjustment by sliding tubes with clickers and tightening wheel. graduated measurements in cm. Hand-rails made of wood covered fibreglass. Upper hand-rail adjustable from 2.10 to 2.45 m. Lower hand-rail adjustable from 1.40 to 1.75 m. Adjustment in width by graduated adjusters from 0.56 to 1.40 m. It is possible to extend the adjustment to 1.55 m. Supplied with integrated transport wheels.