Flooring system Athens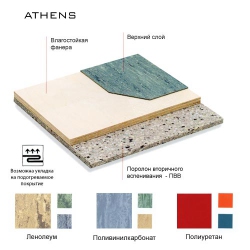 This equipment is no longer supplied. Please search through the catalog for analogues.
Company: Haro
Model: Athens
Category: Sports coverage

Technicals Features:
Model Athens is a real Gold Medallist. This flooring system was installed for the Athens 2004 Olympic Games in the "Faliro – House of Handball" main competition hall with a Taraflex Sport M as the floor finish. Although being a budget floor, the performance is outstanding and both officials and players were impressed.

Model Athens consists of two components — the HARO elastic layer and two layers of HARO load distribution panels, which should be laid onto an even sub—floor. These panels are made of high quality northern birch plywood. The elastic layer is laid out loosely over the entire hall, the load distribution panels are then glued and stapled together.
The synthetic surface is then glued to the load distribution panels. The construction height of model Athens is just 33 mm and therefore a perfect choice for renovation projects. Athens fully meets the requirements of German DIN V standard 18032-2; April 2001.