FLASH LED STARTING SIGNAL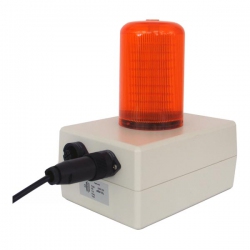 Manufacturer: Swiss Timing
Model: Flash led
Category: Refereeing and timing systems

Specifications:
Dimensions (w/l/h) : 138 x 190 x 222 mm
Weight (without cable): 600 g
Power supply : 12 VDC (via STARTIME)
Power consumption : mA (peak during flash)
Flash reaction time: 1 ms
Duration of a flash: 48 ms
Minimum duration impulse: 50 ms
Polarity of the start impulse: normally closed
Cable length: 25 m
Operating temperature: 0 to +50°C
Storage temperature: —10 to +60°C
A self-contained optical starting signal for swimming competitions
Allows all competitors and spectators to see the exact moment of the start
Unlike acoustic signals that can be masked by
surrounding noise, a flash can be seen from
wherever you are in a venue. Swiss Timing flashes
use an ultra bright LED technology for their
devices, making the signal
The flash is intended to complement the acoustic
start signal. The visual signal ensures that all
athletes, receive the start signal at the very same
moment.