EURO RACK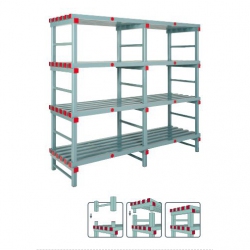 Made in: Netherlands
Model: EURO RACK
Category: Storage space system

Technicals Features:
The Euro rack was the basis for all the storage solutions in the REA range. It is also the most versatile rack in the delivery programme.
The shortest length available is 40 cm and the longest length in one piece is 400 cm. All lengths in between are available. The depth of the shelves starts at 30 cm and goes up to 100 cm in 10 cm steps. The standard amount of space underneath is 12 cm. The option which is generally chosen is 20 cm space underneath, because this offers more space when cleaning. Levelling feet can be used from this amount of space upwards. The space underneath can be increased in steps of 5 cm. The same applies to the space between the shelves. The smallest amount of space underneath is 15 cm. The spaces in between do need to be the same and they also go up in 5 cm steps. The load bearing capacity is 200 kg per running meter of shelf. The temperature resistance is —40° C tot +80°C when cleaning. The rack can be installed easily and quickly The rack can be assembled by one person, without tools or technical knowledge. Euro racks are also available with wheels.
- durable
- hygienic
- easy to maintain
- easy to use
- can be customised
- can be disassembled
- easy assemblage
- easy disassemblage
- corner usage
- wide area of applications
- colour variations in grey accents 'design'