DISTRIBUTION BOX ODB10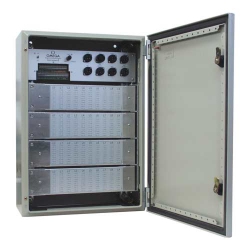 Manufacturer: Swiss Timing
Model: ODB10
Category: Refereeing and timing systems

Specifications:
Dimensions : 60 x 40 x 23.5 cm (without hooks)
Weight with rack(s) : 1 rack 13 kg
2 racks 14 kg
3 racks 15 kg
4 racks 16 kg
Power supply : VAC VDC
Power consumption : VA (max) (typ)
Battery life : hours
Data connections : SCB, GP, Flash, Start, HA1, HA1 backup, HA2, HA2 backup
Working temperature : 0 to +45°C
Storage temperature : —10 to +60°C
This distribution box collects and manages all
the cables from the deckplates : starting
blocks, touchpads and pushbuttons.
Depending on the selected version, it handles
a primary and a backup system, up to 10
lanes, plus the acoustic start device. ODB9 is
factory configured to suit the number of lanes
and the level of competition. The set includes
all necessary cables to lanes harnesses,
Scoreboard and ARES timing unit.