Cyclops photocells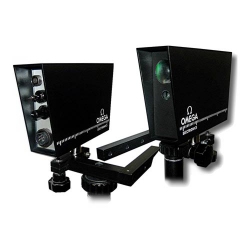 Manufacturer: Swiss Timing
Model: Cyclops photocells
Category: Refereeing and timing systems

Specifications:
Battery type: 3xAA or UM—3
Typical battery life: ~ 300 h (transmitter), ~ 180 h (receiver)
Weight incl. batteries: 520 g (transmitter), 540 g (receiver)
Dimensions: 168 x 100 x 40 mm
Fixing: UNC 1/4" mounting thread
Protection: IP54
Working temperature: —25°C to 70°C
Storage temperature: —35°C to 85°C
Operating distance: max 120 m
Response time: < 0.5 ms
automatically detected by the receiver when aligned
opposite*. Any interruption is detected and
reported accordingly to meet the international standards.
The Cyclops allows simple constant monitoring
of cell alignment.
Aluminous alignment indicator (LED) and an optical
electronics system (viewmeter) allow easy operations
for use up to 120 metres between the
transmitter and the receiver. The Cyclops has an
internal battery; it can also be connected to an
external battery or a DC power supply. The
Cyclops photocell is the best guarantee to ensure
optimal security of the results.