CupBoards series NG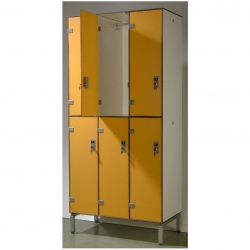 Made in: Italy
Model: NG
Category: equipment for locker rooms

Technicals Features:
HPL cupboards, with grey nylon joints and components. The series is available in a wide range of sizes and modules. Optional locks are also available:
— key
— butterfly locks
— electronic
— according to the customer's specification

and risers off the ground:
— with adjustable feet
— with 10 cm high aluminium riser
— with 20 cm high aluminium riser.

N.B. Besides the standard configurations the sizes and accessories can be totally customised.