Competitor Gold Lane Numbers for Racing Lanes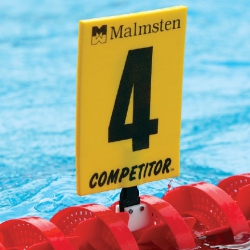 Company: Malmsten
Model: 14360
Category: Equipment for swimming and water polo

Technicals Features:
Competitor Gold lane numbers for competition racing lanes, printed onto both sides, black on yellow foam material, and with the Malmsten / Competitor logo.
Fits only the Competitor Gold size racing lanes.
Comes complete with 2 pairs of weights, to ensure a good placement of the lane number sign.
Comes with a durable plastic clip to attach it onto the GOLD Competitor racing lane.
Instructions enclosed.
Normal numbering series are blank /1 – 8 /blank side for a competition pool with 8 lanes and 9 racing lanes, which means that a total of 18 lane number signs are needed, if placed at both sides of the pool.
When the championship is held on 10 lanes, with 11 racing lanes, it requires 22 number signs, and then usually there is a "0" and a "9" lane, in addition to lanes 1 to 8.
Please note that the lane numbers are made to fit only Competitor Gold racing lanes.